Last weekend Hubba and I went to the
Estes Park Wool Market
. This was my second time visiting, and Hubba wanted to come along. So of course I let him. ;-) I sure love that he appreciates fiber and fiber animals as much as I do and Estes Park is a great place to see it.
I know this is a smaller show, but the only other fiber show I've attended is the
Taos Wool Festival
. So if you were at
TNNA
last weekend,
Maryland
earlier this year or have attended
Rhinebeck
before, you may not be so impressed, but I'm gonna tell you about it anyway. ;-)
The Estes Park Wool Market is one of the few opportunities I have to see Cashmere Goats (my favorite) and lots of woolly sheep up close and personal.
Of course, my knowledge of sheep breeds remains pitifully poor, but I do know the black goat is cashmere and the goat in the bucket is angora.

There was a Paco-Vicuna tent. I sure do like their faces. :-)
There were llamas, alpacas and bunnies too, but I apparently didn't take any photos of them. :-/

However, I did get a few shots of the sheepdog demonstration. I really enjoyed it because I hadn't seen a herding dog in action before.

Estes Park sees a huge tourist season in the summer. So I believe the Wool Market is perfectly timed between winter and vacationers. :-)
Oh, I almost forgot... this is a Fiber Arts Friday post. ;-)
Clockwise from top-left: llama batt, paco-vicuna roving, paco-vicuna cloud, yak roving,
quiviut (musk ox) roving, baby camel roving, bison down cloud, cashmere cloud, angora roving
I have learned to bring a canvas bag and pocket of cash to things like fiber (and veggie) markets so I don't bring home or spend too much. With that being said, I still found a lot of fun fibers to spin in the upcoming Tour de Fleece.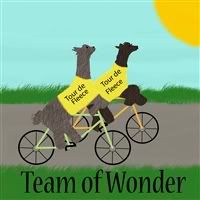 I'll tell you my goals in another post, but I thought you should know that I have joined up with the
Team of Wonder
again. :-D Our team feels like it's a lot bigger than last year. I'm really looking forward to it and there is room for more so join us. ;-)
Finally, we wrapped up the day with a stop at the Cherry Store, because who doesn't need a gallon of ice-cold cherry juice?
At the end of the day, I sure felt a lot like this guy. :-)
Be sure to visit the other Fiberistas for today is
Fiber Arts Friday
.